Kaylie Cronin, PA-C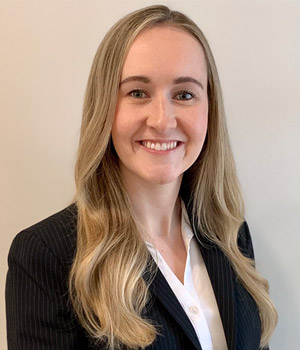 Kaylie Cronin is a board-certified Physician Assistant who works primarily with Dr. Banos, providing care both in the office and assisting in surgery. Kaylie graduated from the Tufts University School of Medicine Physician Assistant Program with a Master of Medical Science degree. While in Physician Assistant school, she was trained in Orthopedics and Sports Medicine at the VA Boston Healthcare System and St. Elizabeth's Medical Center. Prior to PA school, she received her bachelor's degree in Nutritional Sciences from Cornell University, where she was captain of the Division I gymnastics team.
Growing up as a competitive athlete, Kaylie had her fair share of injuries, which ignited her passion for orthopedics and sports medicine. Understanding from personal experience the pain and frustration caused by an injury, she finds it extremely rewarding to help patients return to an active lifestyle. She enjoys working with all ages, from young athletes eager to return to play, to older adults looking to enjoy a life with increased mobility and decreased pain.
Kaylie is a native of the North Boston area and enjoys hiking, tennis, and spending time at the beach. A valued member of the Seacoast team, she enjoys her role as a resource for patients throughout the road to recovery from injury.